In early 2010, Amit Rathore and Tim Dysinger had the idea that it was the right time for a Clojure conference. In early April of that year, Cognitect (then Relevance) reached out to offer our support. By late October, the inaugural Clojure/conj was a reality. You can relive those early days by:
That first year in Raleigh, there were 167 attendees altogether, which rose to more than 500 last year in Austin. Along the way, the Conj moved up to Washington DC for 3 years, including a stop at the beautiful George Washington Masonic Memorial Theater:

The George Washington Masonic Memorial Theater in Washington, DC, 2013.
From there, in 2015, it moved to Philadelphia, and last year to Austin, Texas, with this year being, of course, Baltimore.
Along the way, we've had some great moments. Near and dear to our hearts this year, back in 2013 David Bock baked Clojure a 6th birthday cake, which Rich and Stu joined forces to cut: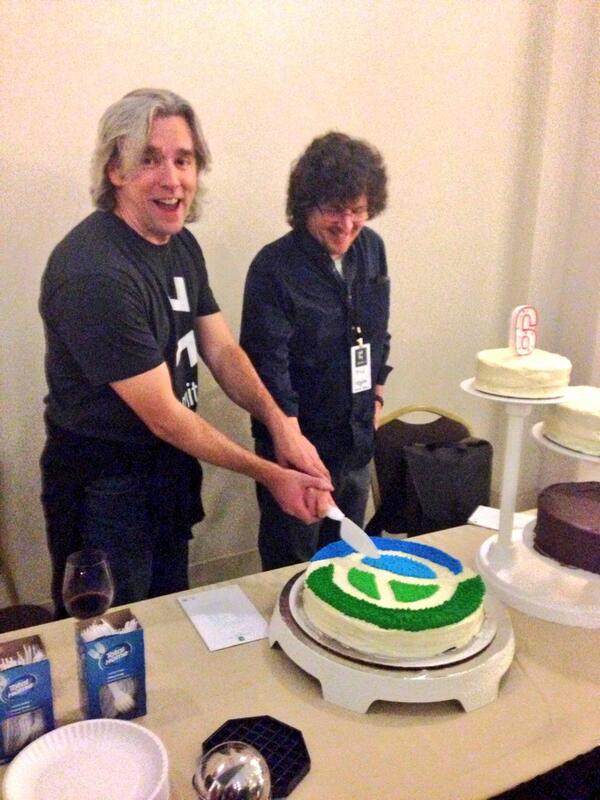 Stu and Rich cutting the cake.
In 2010, there was an after party at Tir Na Nog in Raleigh. The party was meant to be a place to unwind, chat and hang out in a relaxed atmosphere, but instead, was dominated by some excellent (and excellently loud) bagpipers: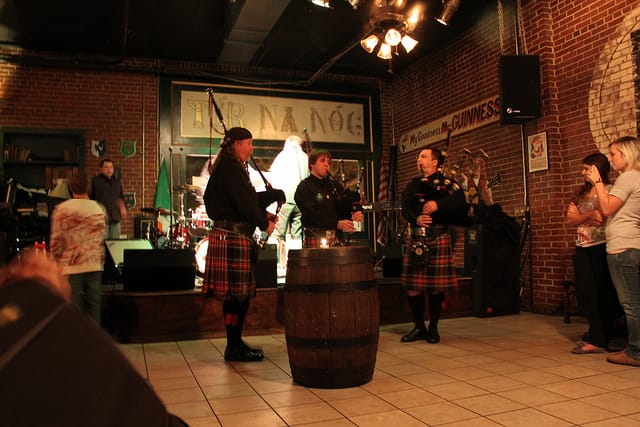 So good, so loud.
In 2011, Sam Aaron blew everyone away with Overtone. In 2012, Dan Friedman and William Byrd gave a talk showing miniKanren for Scheme which was a major hit.
A few other personal favorites of mine:
And let's not forget the collection of talks Rich has given at the Conj:
There have been so many great speakers and talks over the years at Conj, but invariably what stands out from personal recollection and from the feedback we receive each year is how much fun is had, and how much value is gained, in the hallway track and the times between and around the talks as the community gets together. If you go back to the early days of 2010, that was the impetus that drove Amit and Tim and then us to want to see Conj come into existence - to bring as many people from the community together in one place as we could and give everyone the chance to meet and get to know their fellow travelers.
This year, as we gear up for the seventh Conj, we are also celebrating Clojure's 10th anniversary (and ClojureScript's 5th, too!). It is remarkable to think of those time scales - a decade of Clojure in the wild. Certainly, the growth of the community of developers using Clojure has been wonderful to see, and we are thrilled to mark this anniversary with everyone in Baltimore this year. In addition to all the wonderful talks, there will be special events to celebrate the anniversary, a game night event, and much more. See you there!